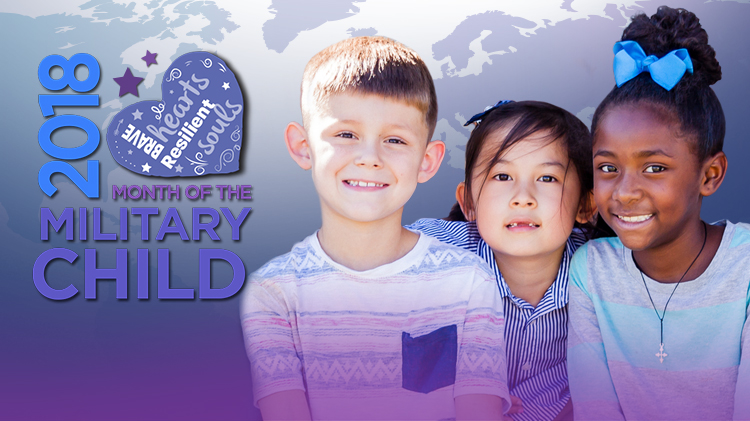 Month of the Military Child
Register - Parent Central Services
April marks the national observance of the Month of the Military Child, during which the Department of Defense and communities across the country honor military children and youth. The Army recognizes the Month of the Military Child (MOMC) as an opportunity to honor the commitment, contributions and sacrifices Army children and youth make to our nation through the strength they provide our Soldiers and Families.
This year, Child and Youth Services and Army Community Service are teaming up Month of the Military Child and Child Abuse Prevention Month so offer more for your children and Families to enjoy!
Date & Time
Ages
Event
Location
Saturday, March 31
11 a.m. - 3 p.m.
All
Eggstravaganza
Ederle Track and Field
Wednesday, April 4
1-2 p.m.
Open to all EFMP parents
EFMP Parents Connect
ACS (Bldg. 108)
April 4, 11, 18 & 25
Every Wednesday!
All
FAP Wear Blue Campaign
Tuesday, April 10
10-11 a.m.
Ages 2-4 years
Let's Move!
SKIES (Ederle, Bldg. 308)
Friday, April 13
7-11 p.m.
Grades 9-12
#WeOwnFridays Keystone Event
Teen Center (Bldg. 373)
Wednesday, April 18
3-5 p.m.
All
Celebration Event!
Villaggio Youth Center (Bldg. 702)
Wednesday, April 18
3-4:30 p.m.
Register by April 11 Online
Parents of children 5-10 years
GROW! Parenting Class
5 week sessions
Villaggio SAC (Bldg. 703)
Friday, April 20
6-7:30 p.m.
Ages 6 and over
Music Cafe for Youth
Sign up with SKIES by April 17
Soldiers' Theatre (Bldg. 11)
Tuesday, April 24
10-11 a.m.
Ages 2-4 years
Let's Move!
SKIES (Ederle, Bldg. 308)
Saturday, April 28
10 a.m. - 6 p.m.
Grades 1-5
SAC Gardaland Trip
Villaggio SAC (Bldg. 703)
Please Note:
During the month of April, the Arts & Crafts Center will offer family open studio times of $3.00 per family instead of the usual $5.00 -- a 40% savings!
All of the events listed above count toward the Strong Families Challenge, going on throughout the month of April. It's a three step process to enter: (1) Pick -- pick an event and go to it, (2) Click -- take a selfie while you're there and participating, and (3) Post -- post the selfie to the Vicenza Family and MWR Facebook page. For every selfie you post you'll be entered into a prize drawing for some truly amazing prizes!
Join in celebrating the Military children who are strong, resilient and equipped to adapt to present and future changes.
Get updates, information and more! Follow us on Facebook.