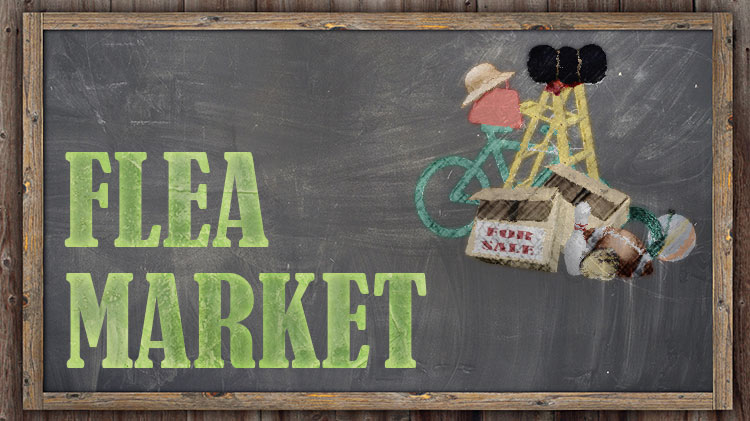 Note: This event has already passed.
Date: Sep 15 2018, 10 a.m. - 3 p.m.
Ederle Library Parking Lot
It's time to clean the house and get rid of those items you've been holding onto for years! This is your opportunity to make some cash while making room for your newly bought items from Italy and the rest of Europe!
Not interested in selling? Get out of the house and search the sales!
Seller information:
Sellers must be U.S. ID card holders
Reserve early — space is limited
Paid reservations are first-come, first choice of spaces
Limit one parking slot per Family
Only used items can be sold
No sales of multiple new, handcrafted or hobby items are permitted
No walking-around sales are permitted — you must have a paid space
Items can be unloaded from your vehicle to your space beginning at 8 a.m.
Teardown begins at 3 p.m.
Sellers must remove all trash and unsold items from their space and vacate the lot by 4 p.m.
Your sales area cannot exceed 6 feet beyond the end of the marked parking lines
No vehicles will be allowed to park within the flea market area
Family and MWR reserves the right to revoke and evict without refund violators of the Flea Market rules
If you do not show up, you forfeit any paid fees
Depending on weather, this event may not be suitable for children or pets
No alternate locations in the event of bad weather
Tips for successful sales:
Price all of your items
Choose how you price your items — higher if you prefer to bargain, lower if you just want it gone
Use multi-pricing (e.g. "$0.50 each or 3 for $1.00")
If you have the original box, bring it
Make sure you have enough change (e.g. small bills and coins) and items to sell
Keep your change box in a safe place
Bring things to keep you comfortable (chair, water, snacks and sunscreen)
Have a buddy to give you breaks
Make a plan for what you will do with unsold items
Sellers reserve your space and start cleaning out your garages, basements and closets!
Sellers are advised to bring:
Sun protection (hat, sunglasses, sunblock, lip balm, etc.)
Insect repellent
A comfortable chair
Get updates, information and more! Follow us on Facebook.
Cost
$10.00 to register
$10.00 each table rental (optional)
Registration Info
Spaces and tables are by reservation only at Outdoor Recreation.
There are a total of 47 slots available.
Signup runs July 15 - September 5 or when all spaces are reserved.